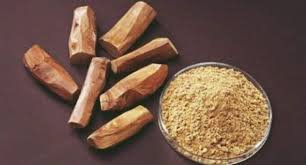 Sandalwood powder comes from the sandalwood tree, which is grown in parts of Indian and Australia. The tree is ground into a fine powder which is then used as a very useful product. Sandalwood powder has been known to contain many useful benefits including: reducing rashes, blemished, dark spots, pimples, and acne.



SANDALWOOD POWDER USES & BENIFITS:
Regular use of the antibacterial Sandalwood powder helps in fighting acne-causing bacteria, exfoliates the skin, soothes sunburn, removes suntan and also reduces signs of ageing such as dry skin and wrinkles. The advantages of sandalwood for your skin are varied and numerous.

Relaxes your body and soothes your urinary system: Sandalwood is anti-inflammatory in nature, thus it helps soothe inflammation in the urinary system and induces relaxation, thereby promoting easy passage of urine. It also increases the frequency and quantity of urination. This helps treat infections and inflammation in the urinary system, because it flushes out dangerous toxins easily.

Works as a disinfectant and keeps bugs and germs at bay: Sandalwood is an essential oil, which has great disinfectant properties--the distinct aroma of this oil can drive away pests and is even used in insect repellents and pesticides.